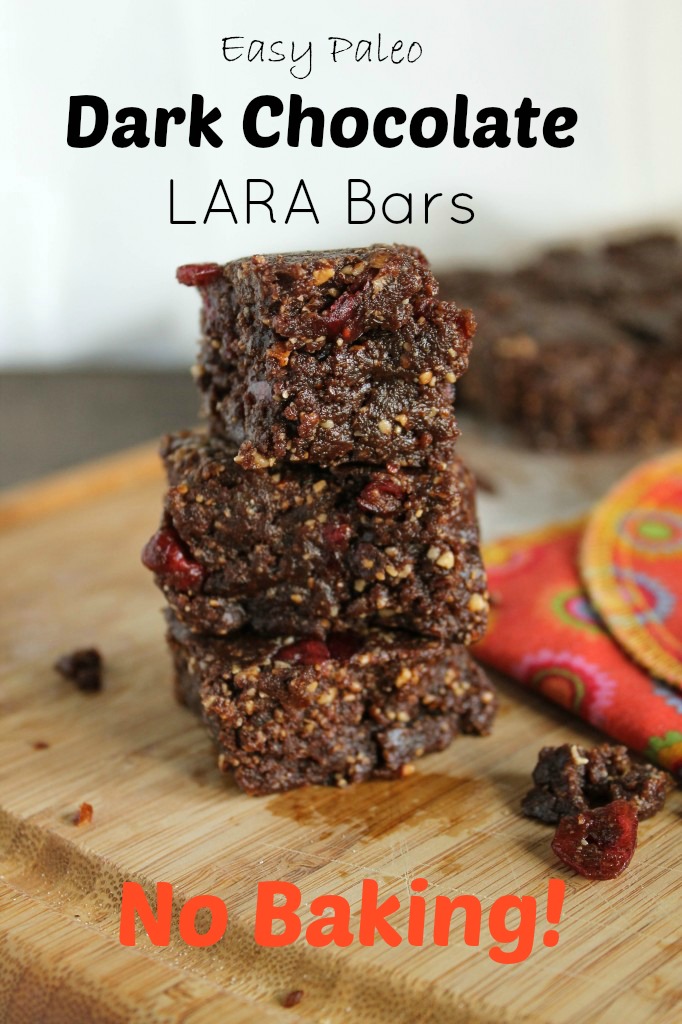 I feel like we spend a FORTUNE on bars in this household.  No I don't just feel it, I know it!  My middle child could sustain herself entirely on bars of almost any form.  Around here, some of our favorites are KIND bars
and Larabars
.  But at $1.20-1.79 a pop, that  is pretty pricey!!!
So when I came upon a recipe to create our own protein dense bars, I just HAD to try it.  I knew it would save me money, but unless it was delicious, who cares?!
Well, not only are these a 'knock out of the ball park' fabulous, they are easy to make too!  I think two things really set these apart and take them above and WAY beyond Larabars: the toasted nuts and the dark chocolate flavor!!  These are also much more moist than the original too.  I wrap individual portions in waxed paper and store them in the freezer for a grab and go snack…not that they ever last long.
My girls thought they were brownies….really!  They do hint at dark chocolaty brownie goodness, so if you're like my girls, you'll think you're having a dessert!  I slightly tweaked a recipe I found on Elana's Pantry.  This recipe is practically begging for tweaks and personalizing: change out the dried fruit, change the nuts, add in different goodies, have fun with it!
Makes 12 servings, depending on how you cut them (about 262 calories per bar)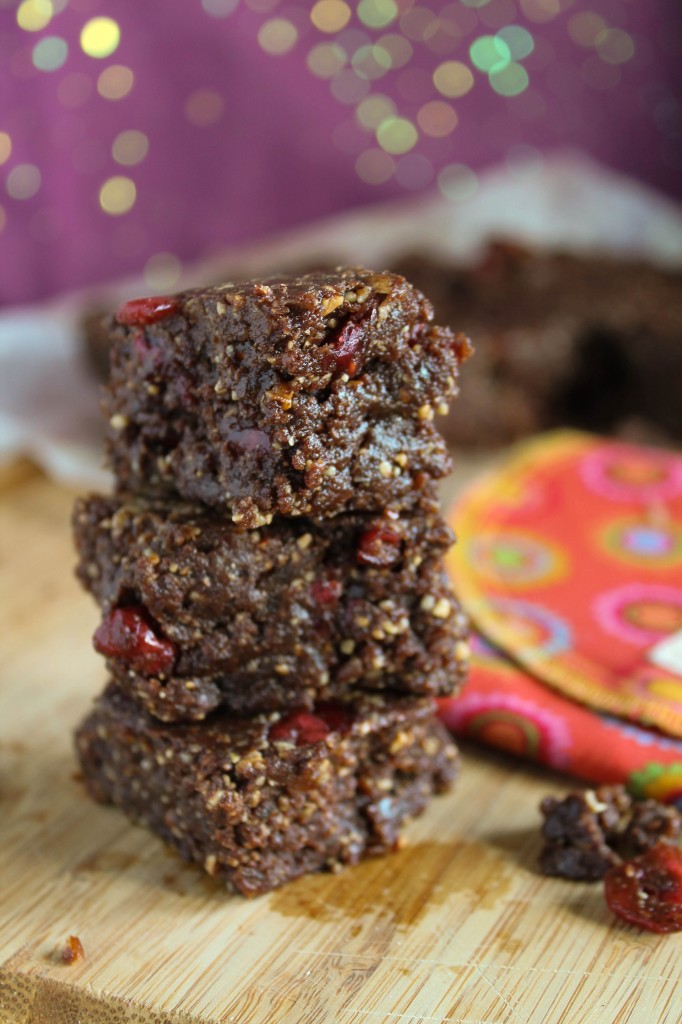 Chocolate-Cranberry 'LARA' Snack Bars
Author:
Tessa the Domestic Diva
Prep time:
Cook time:
Total time:
Ingredients
2½ cups pecans, lightly toasted (300 degree oven, spread out on a cookie sheet, for about 10 minutes, you'll will smell them, toasty and wonderful. Careful not to burn them, it will happen quickly!)
¼ cup cacao powder (unsweetened & high quality...makes a big difference in the taste here, I love Dagoba)
15-20 large Medjool dates, pitted, or about 8-9 oz. NOTE: don't use other date varieties...these are the Cadillacs of the date world, much softer and more caramel flavors than other varieties.
2 teaspoons vanilla extract
½ cup dried cranberries
Optional Add In's: coconut flakes, mini chocolate chips, any dried fruit
Instructions
Blend toasted pecans and cacao powder in a food processor until powdery and coarsely ground. Do not process so long that you have nutbutter!
Add in dates and process until blended into dry ingredients, this might take a minute!
Pulse in the vanilla until well combined.
Add dried cranberries, pulsing a few times to mix (you could also do this by hand, but I am lazy!)
Press mixture into an 8x8 inch dish. Freeze or refrigerate for 1 hour, or until firm, and then cut into 16 squares.
This was shared on Sugar Free Sundays,  Make Ahead Monday,  Love, Tasty Tuesday, Fat Tuesday, Slightly Indulgent Tuesday, Gluten Free Wednesday, What's Cooking Wednesday, Kids in the Kitchen, Whole Foods Wednesdays, This Chick Cooks, Traditional Tuesdays, Real Food Wednesdays, Cast Party Wednesday, Frugal Days Sustainable Ways, Hearth & Soul, Thriving on Thursdays, Full Plate Thursday, Pennywise Platter, Wellness Weekend, Fresh Bites Friday, Fight Back Friday, GAPS Friendly Fridays, Foodie Fridays, Friday Foodie Fight, Seasonal Celebration Sunday, My Meatless Monday, Better Mom's Linky, Make Your Own Monday, Mix It Up Monday, Made From ScratchMonday,Monday Mania, Melt in Your Mouth Monday, Lunchbox