Whenever we do smoothies in this house, they are almost ALWAYS as a meal.  This smoothie is no exception!
I have had to really practice at getting good at smoothie making.  It did not seem to come naturally to me like baking.  I have not been willing to sacrifice my health beliefs for taste…it needs to be NUTRITIOUS and not loaded with added sugars.  Add in the curve ball of no top 8 allergens or corn…and it gets even more challenging!  In the beginning, I had lots of failures.  Slowly but surely, I have been able to learn and get into a groove with my new smoothie recipe attempts.
My biggest challenge is getting some protein in these smoothies for my son.  When you take protein powders out, you need to be creative about your protein additions.  My sons allergies mean almost all protein powders are out…and the 2 or three I have found that do not contain a trigger for him taste nasty.   But having protein in our smoothies is totally necessary as he is SO picky!
Protein is ALSO key to the staying power of a smoothie, along with a dose of healthy fats.  A smoothie made entirely of fruits just isn't going to stick with you for any length of time.  You have your choice in this smoothie…raw cashews or gelatin….the cashews lend a nuttiness to this, and the avocado & gelatin lend no flavor but maintain the subtle creaminess.  Chia seeds or hemp hearts add additional protein and goodies without altering the flavor much!
This particular smoothie was born in the Winter with limited in-season produce.  Citrus is plentiful, tasty, and cheap!!  In this smoothie, I left some of the zested peel and pith intact on the oranges.  I simply use a knife to roughly peel….it's quicker and cleaner for me to prep it this way.  A high powered blender is needed to pulverize all the peel.
Paleo Orange Greensicle Smoothie – A Full Meal Deal!
Ingredients
2 cups preferred milk (I use So Delicious Unsweetened Coconut Milk)
2 navel orange, zested, and peeled with a knife so some peel remains (see notes above)
2 handful baby greens
¼ cup raw cashews OR ¼ avocado & 1 tablespoon unflavored beef gelatin
2 tablespoons coconut butter or oil
½ cup frozen mango (or fresh with some ice)
Liquid stevia or honey to taste
Optional: chia seeds or hemp hearts
Instructions
Place all ingredients into a high powered blender (BlendTec, Vitamix) and blend until smooth.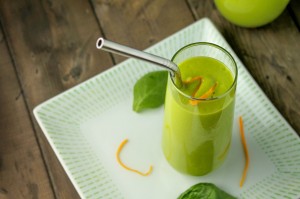 This recipe was shared on My Meatless Monday, Make Your Own Monday, Natural Living Monday, Motivation Monday, Tasteful Tuesday, Hearth & Soul, Fat Tuesday, Slightly Indulgent Tuesday, Traditional Tuesday, GF Wednesday, Wheat-Free Wednesday, Waste Not Want Not, Whole Foods Wednesday, Frugal Days Sustainable Ways, Healthy 2Day Wednesday, Wildcrafting Wednesday, Natural Living Link-Up, Simple Lives Thursday, Thank Your Body, Raw Foods Thursday, Tasty Traditions, Pennywise Platter,Wellness Weekend, Fight Back Friday, Whole Foods Friday, GF Fridays, Healthy Vegan Fridays, Simple Meals Friday,