A paleo green orange smoothie bursting with bright flavors and loaded with good-for you ingredients! This full meal smoothie will keep you satiated for hours with its healthy fats and protein!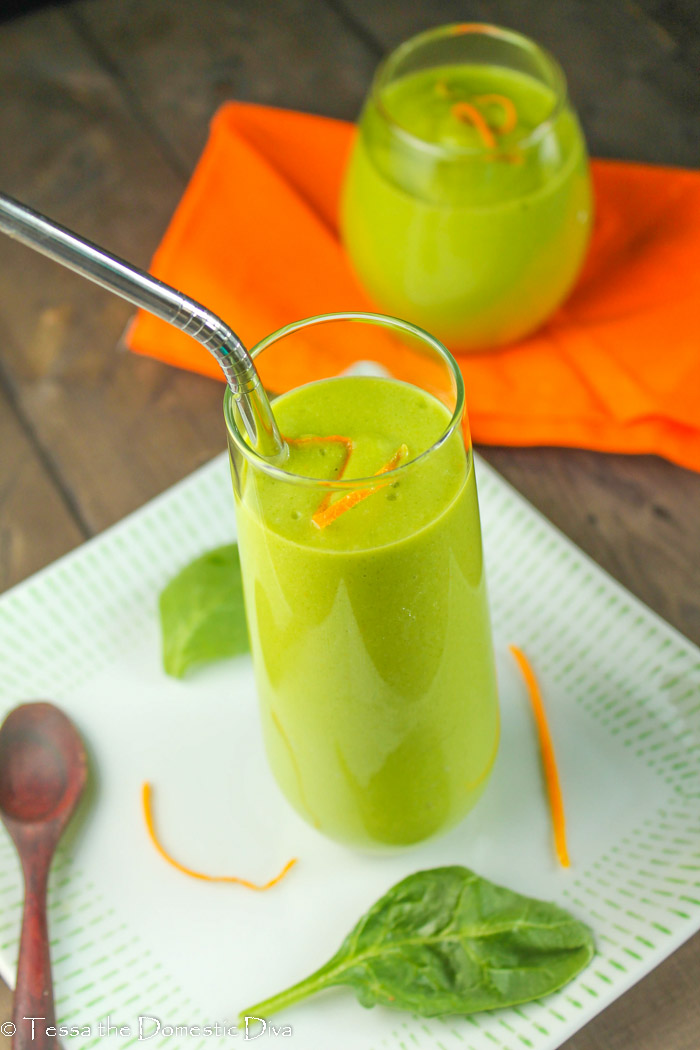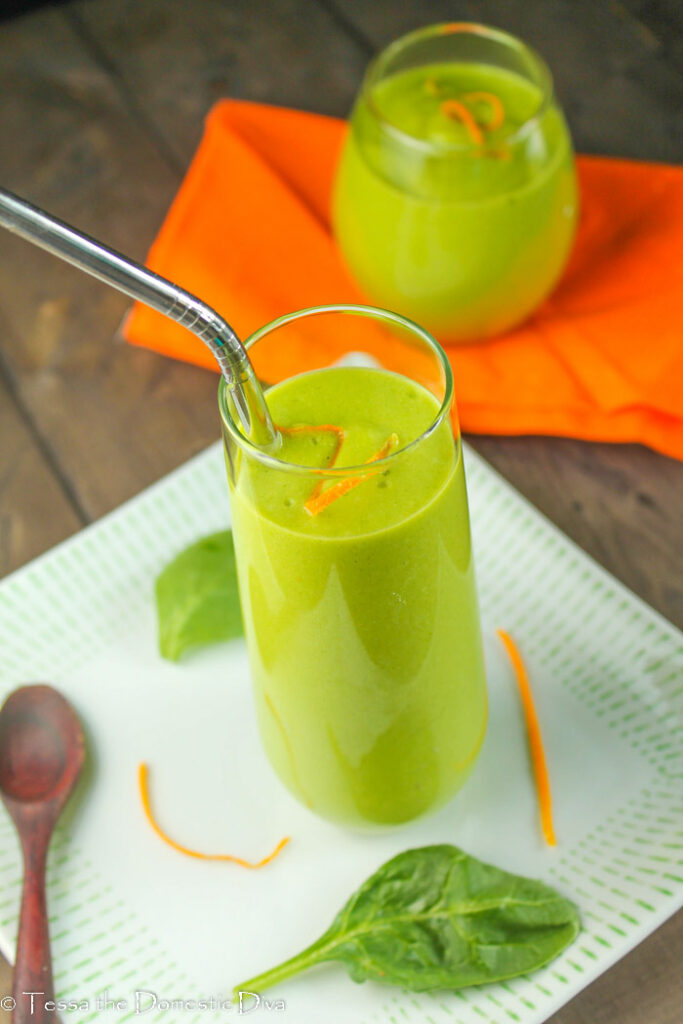 Whenever we do smoothies in this house, they are almost ALWAYS as a meal. This Paleo orange smoothie is no exception!
I have had to really practice at getting good at smoothie making. It did not seem to come naturally to me like baking. I have not been willing to sacrifice my health beliefs for taste…it needs to be NUTRITIOUS and not loaded with added sugars.
Add in the curve ball of no top 8 allergens or corn…and it gets even more challenging!
In the beginning, I had LOTS of failures. Slowly but surely however, I have been able to learn and get into a groove with my new smoothie recipe attempts.
How do I add protein to my smoothies?
My biggest challenge is getting some protein in these smoothies for my son.
When you take protein powders out, you need to be creative about your protein additions.
My sons allergies mean almost all protein powders are not an option…and the 2 or three I have found that do not contain a trigger for him taste nasty. But having protein in our smoothies is totally necessary as he is SO picky!
Protein is ALSO key to the staying power of a smoothie, along with a dose of healthy fats.
And a smoothie made entirely of fruits just isn't going to stick with you for any length of time.
Choice of proteins in this smoothie:
Raw cashews – lend a nuttiness to the flavor and a creaminess to the texture
Collagen: lends no flavor, but has SO many gut healing, hair, skin, and nail benefits…I add this wherever I can!! My favorite brand tests vigorously to make sure their is no Round Up residue from the pasture raised animals! You can use code tessa10 on any order for 10% off anything!
Chia seeds or hemp hearts add additional protein, fiber, and goodies without altering the flavor too much!
How to make an orange smoothie?
This particular Paleo orange smoothie was born in the winter months when there is limited in-season produce.
Citrus is plentiful however, and it is tasty and affordable!!
In this smoothie, I left some of the zested peel and pith intact on the oranges for an extra orange burst. I simply use a knife to roughly peel….it's quicker and cleaner for me to prep it this way. A high powered blender is needed to pulverize all the peel though, so remove the whole thing if you do not have one.
And if the white pith is super thick, it's too bitter to use much, so use caution and remove most of it.
Can I add a vitamin c boost to my green smoothie?
Vitamin C is an immune powerhouse, and so important to integrate, especially in the winter months.
I discovered camu camu powder recently and love it for its tangy addition to smoothies for an added vitamin c blast. Only 1 teaspoon is needed for 700 mg vitamin c! It is more easily used by our bodies since it a whole food instead of synthetic vitamin c! Here is more info:
Carefully hand-picked and dried from the South American rainforest,Camu Camu powder is 100% certified organic and raw with no additives or fillers! Camu Camu berries are amazing superfruits that are said to contain more vitamin C than any other known botanical source. It is estimated to have 30 times more vitamin C than oranges along with calcium, amino acids & antioxidants that can help aid in the body's overall health and vitality.
The Indigenous Amazonian people pick the Camu Camu berry (Myciaria dubia) in season, then dry and powder them, turning this purplish-red, cherry-like fruit to a light beige color. It has been traditionally used as a medicinal herb, improving the bodily functions of the brain, eyes, heart, lungs, liver and skin. It is also believed to help ward off the common cold, influenza and other viral diseases, various health conditions such as asthma, edema and heart disease, support strong collagen, tendons and ligaments, decrease inflammation, and help deal with stress and anxiety.
I also adore my whole foods vitamin c powder, much easier to digest and absorb!
More full meal smoothies?
This Lime Smoothie is extra creamy and one of my personal favorites!
This keto raspberry smoothie is beautifully pink and oh so delicious…low carb to boot!
My Lemon Cheesecake Smoothie celebrates the beautiful flavor of fresh lemons!
Paleo Orange Green Smoothie Recipe:
Be sure to come back and leave a comment if you try this healthy green smoothie!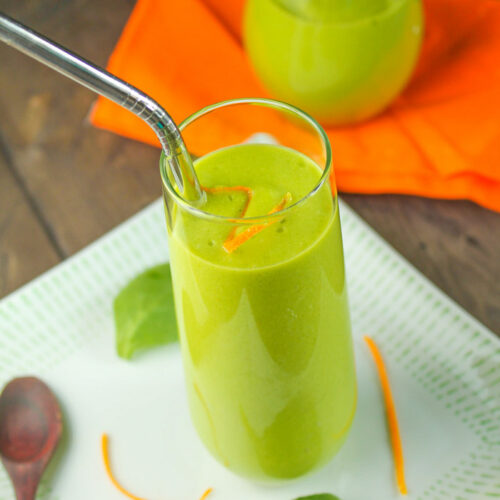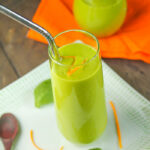 Paleo Green Orange Smoothie
Vibrant green smoothie with a burst of orange flavor and plenty of nourishing foods!
Ingredients
2

cups

milk

I use So Delicious Unsweetened Coconut Milk

2

medium

navel oranges

zested, and peeled with a knife so some peel remains (see notes above)

2

handful

baby greens

1/4

cup

raw cashews

OR 1/4 avocado & 2 tablespoons collagen, or all 3!

2

tablespoons

coconut butter

or MCT oil

1/2

cup

frozen mango

or fresh with some ice

Liquid stevia

or honey to taste, only if necessary
Instructions
Place all ingredients in order into a high powered blender (

BlendTec

, Vitamix) and blend until smooth.
Nutrition Facts
Paleo Green Orange Smoothie
Amount Per Serving
Calories 510
Calories from Fat 270
% Daily Value*
Fat 30g46%
Cholesterol 24mg8%
Sodium 122mg5%
Potassium 803mg23%
Carbohydrates 43g14%
Protein 19g38%
Vitamin A 1670IU33%
Vitamin C 94mg114%
Calcium 360mg36%
Iron 4mg22%
* Percent Daily Values are based on a 2000 calorie diet.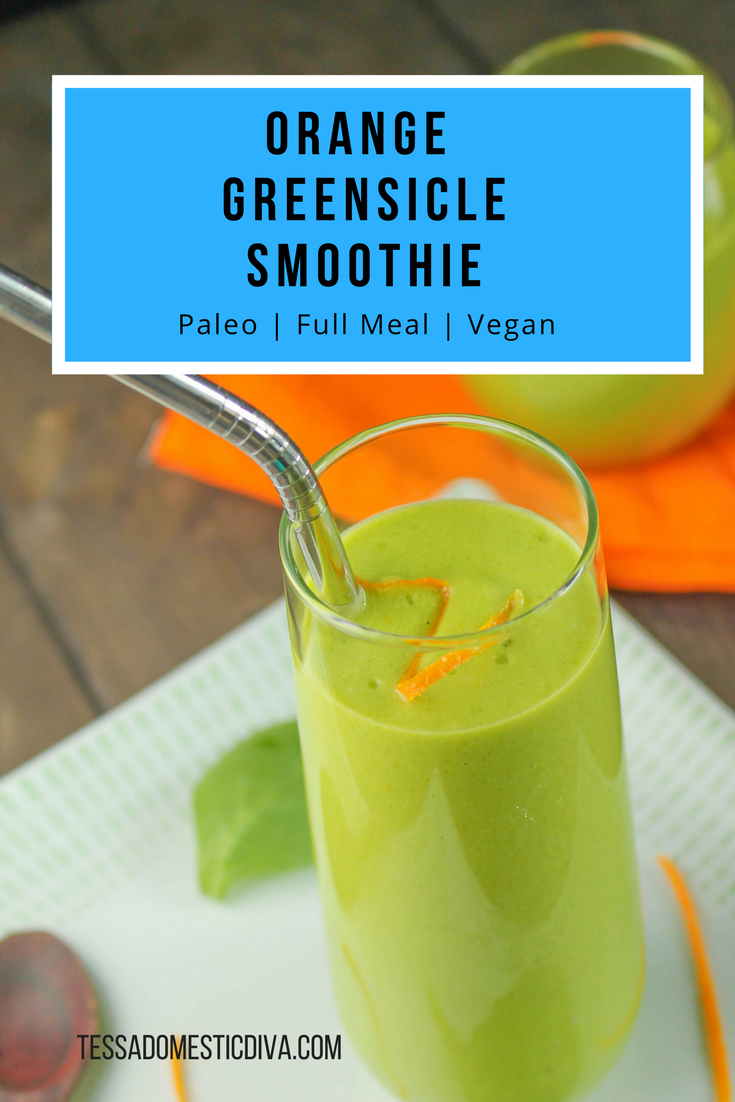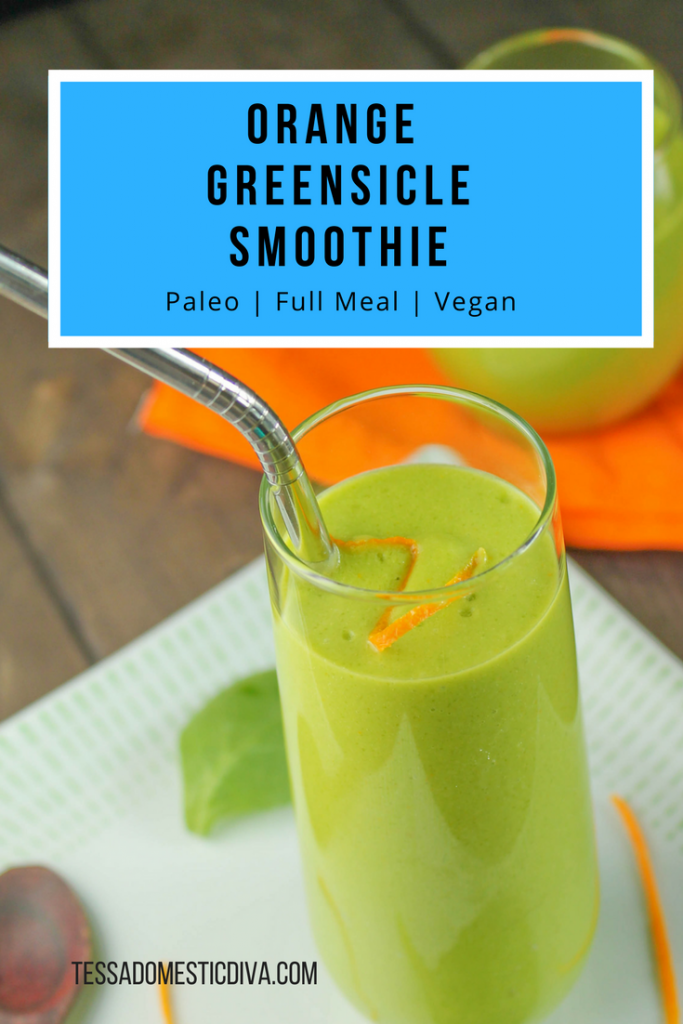 Any of the links in my posts may be affiliate links. If you click on them and make a purchase, I might make a commission. Your support is much appreciated and pays for the cost of running this free resource!