This gluten free vegan pumpkin bread screams fall and is simple to make! With no gluten, eggs, or dairy, this loaf is great for many allergies. Using fresh pumpkin or canned, this cinnamon scented loaf will be ready in under an hour!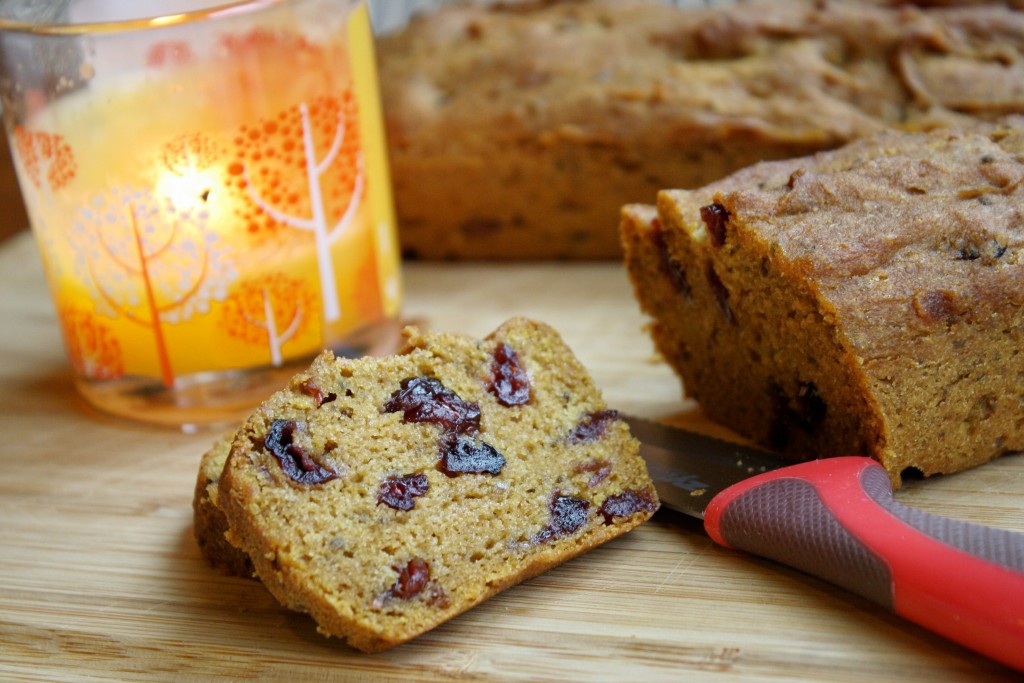 I adore the fall, it is my favorite season.
In my garden every year, I have a plethora of winter squash and pumpkins coming to maturation…a huge highlight in this household! In my very limited garden space, I always choose to devote a lot of square footage for them, and they DO take up a lot of room!
I love the colors, I love the flavors, and they are so good for you!
Having plenty of recipes available to use as much pumpkin as I can is a must for me! Enter this delectable gluten free vegan pumpkin bread!
Should I make my own pumpkin puree for this gluten free pumpkin bread?
For this recipe, I baked my very first Cinderella pumpkin. I have read many posts where people say cooking your own pumpkin is not worth the hassle…but I disagree! There is a flavor and texture that come from fresh pumpkins that can not be beat.
It is like saying that fresh tomatoes and canned tomatoes are the same thing: they are not.
I mean, would you ever crack open a CAN of tomatoes to snack on?! Me thinks not.
But would you enjoy it sliced fresh from the garden?! Many do!
There is nothing wrong with using canned pumpkin, but if you have the choice…give it a whirl (literally!). Homemade puree is tasty enough to eat all on it's own (the good, ripe ones)!
What types of squash and pumpkin should I use for making my own puree?
There are many varieties that cook up wonderfully.
My favorites (that I have tried so far) are:
Sugar Pie – the classic pie pumpkin, they are sweet, but small! One pumpkin typically yields about 2 cups puree max.
Cinderella – deep orange red (pictured below), these have a firm flesh that cooks up beautifully.
Sweet Meat – large and sweet, one of these large mint green squashes makes a lot of puree!!
Kabocha – a dry squash, often used in Japanese tempura!
Butternut squash are readily available and are consistently sweet and yummy (you should try my roasted butternut squash recipe, or my butternut squash chocolate muffins!)
Buttercup squash are also outstanding. Green and squat, they have a very sweet flesh!
Pick up something that catches your eye at the farmer's market: there are so many pretty, tasty ones!
Just know that your average jack-o-lanterns are not intended for consumption…unless we're talking about your worms in a worm bin!
Find a heavy dense one that feels very firm. I devoted a whole post on how to cook and select you own winter squash and pumpkins.
L to R, Buttercup, Cinderella, Butternut, and Sugar Pie
Packing your pumpkin bread for the lunchbox tip:
Freeze individually sliced pieces of bread for your lunchboxes! I briefly freeze slice on a baking mat lined cookie sheet, then throw them all into large container to grab and pack as needed.
Love pumpkin? Here are some more gluten free pumpkin recipes to try!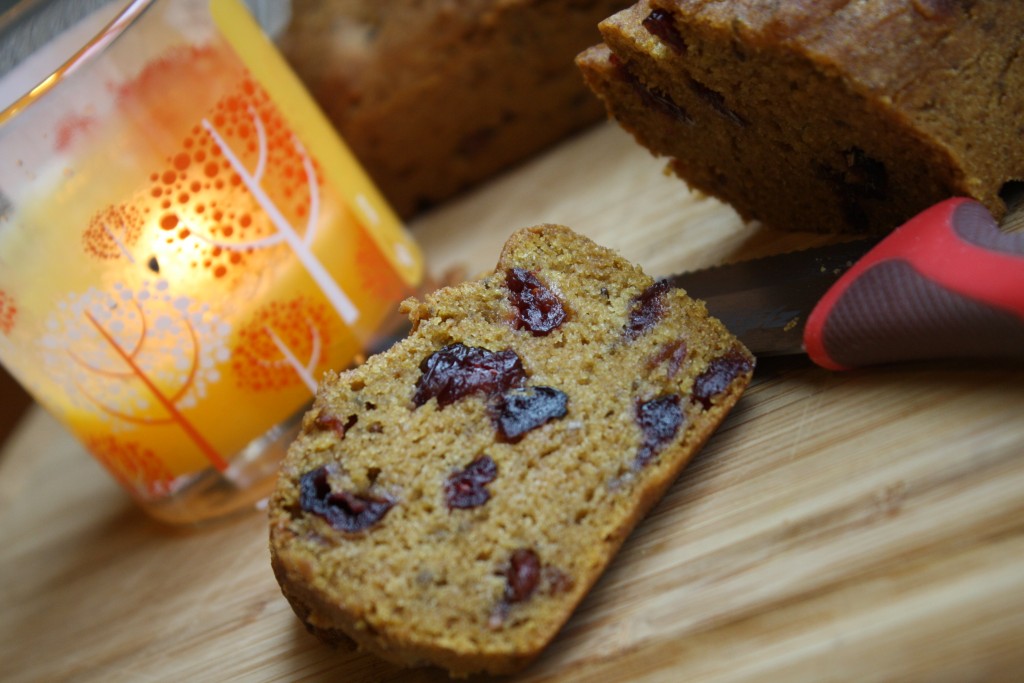 Gluten Free Vegan Pumpkin Bread Recipe:
If you try this vegan pumpkin bread, be sure to come back and leave a comment!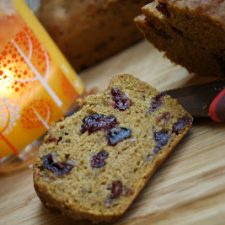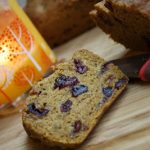 Pumpkin Cranberry Bread - Gluten Free & Vegan
Ingredients
Optional Add Ins
dark chocolate chips, dried cranberries (if yours are overly dry, it is yummy to soak them in orange juice to plump them), raisins,

nuts, or orange zest
Instructions
Preheat oven to 350 degrees.

In a large bowl, whisk the pumpkin, oil, vanilla, and sugar together until well mixed (if using coconut oil. use room temp ingredients or the oil will harden).

Sprinkle in the flours, baking powder, guar gum, salt, and cinnamon and whisk in briskly to the wet pumpkin mixture.

Pour into greased pans of your choice. Mini loaves take about 30 minutes, large loaves take about an hour. I sometimes make muffins if there is any extra batter remaining in the bowl, and those take about 20 minutes. All of them are done when a knife or toothpick inserted in the center comes out clean.

As with all gluten free breads, remove from the pan after about 5-10 minutes so the bottoms do not get soggy!!
Nutrition Facts
Pumpkin Cranberry Bread - Gluten Free & Vegan
Amount Per Serving
Calories 231
Calories from Fat 72
% Daily Value*
Fat 8g12%
Sodium 303mg13%
Potassium 222mg6%
Carbohydrates 39g13%
Protein 2g4%
Vitamin A 6355IU127%
Vitamin C 2mg2%
Calcium 53mg5%
Iron 1mg6%
* Percent Daily Values are based on a 2000 calorie diet.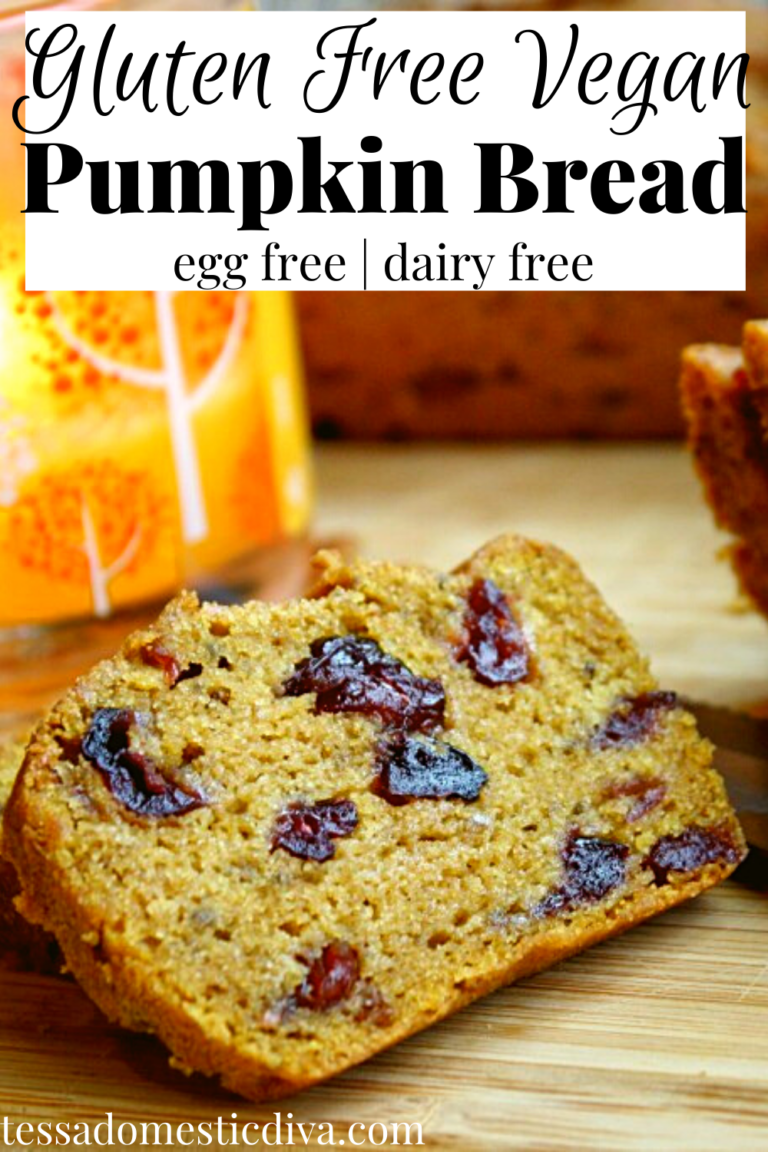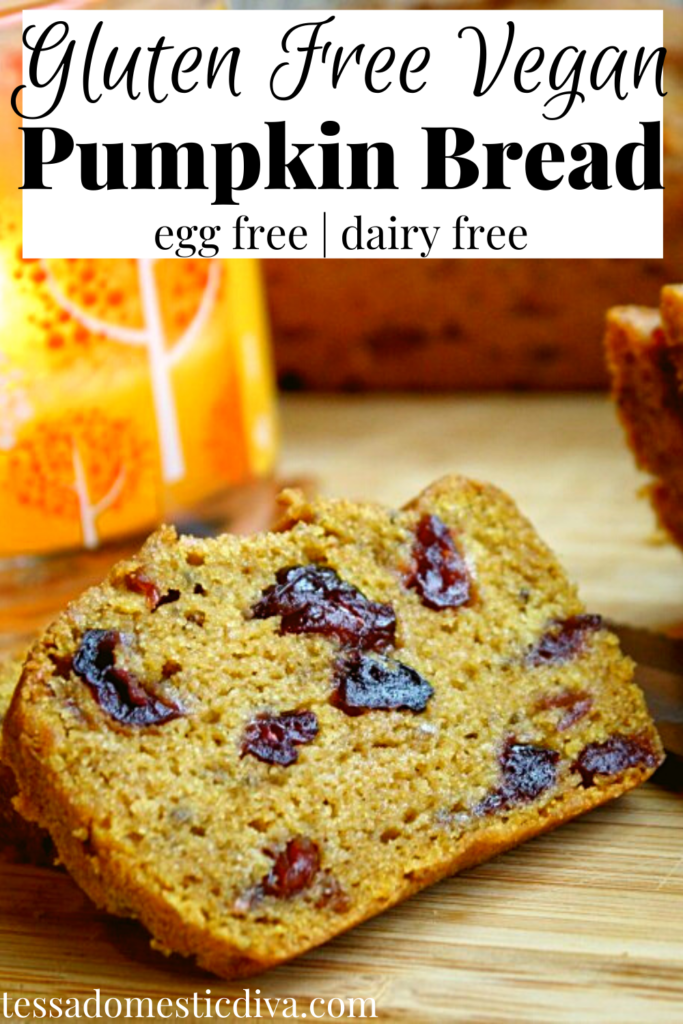 Any of the links in my posts may be affiliate links. If you click on them and make a purchase, I might make a commission. Your support is much appreciated and pays for the cost of running this free resource!