A flavorful and easy zucchini casserole with rice to use up some of those prolific zucchinis coming from gardens all summer long!!
By using some of the summer's best in season produce, the marriage of zucchini, tomatoes, and basil is a match made in heaven!
A tasty side dish, or an irresistible main dish with the addition of some ground sausage! Either way, you can't go wrong!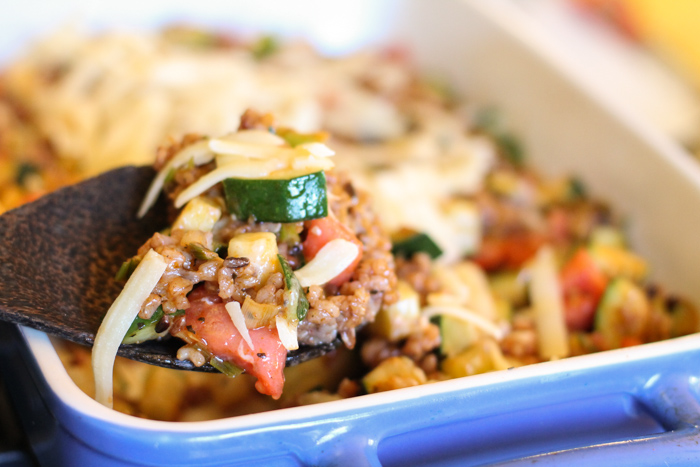 When the garden spews forth with mountains of zucchini, what is one to do?! Make this gluten free zucchini rice casserole to start!!
I have been away in North Idaho escaping, enjoying the sun and relaxation. Bliss. I am always anxious to get back home though, and this time was no different. I missed my family, and I missed my kitchen!! Eating out with so many "no's" on the list is a real pain, as I am sure many of you can relate.
I came back to even more zucchinis, and loads of beans…so look forward to some of my favorite recipes with these vegetables!
This recipe was one I used to use pre-allergy days. I have to "Tessify" the majority of my old recipes, but that is the fun part….for me!
I changed this one by adding some more spices, changing the cheese and changing to brown rice for more nutrition. This one could easily make a good vegetarian meal with some additional protein, but my family uses it as a side dish some of the time too.
Lots of people have tried this, and it always goes over well!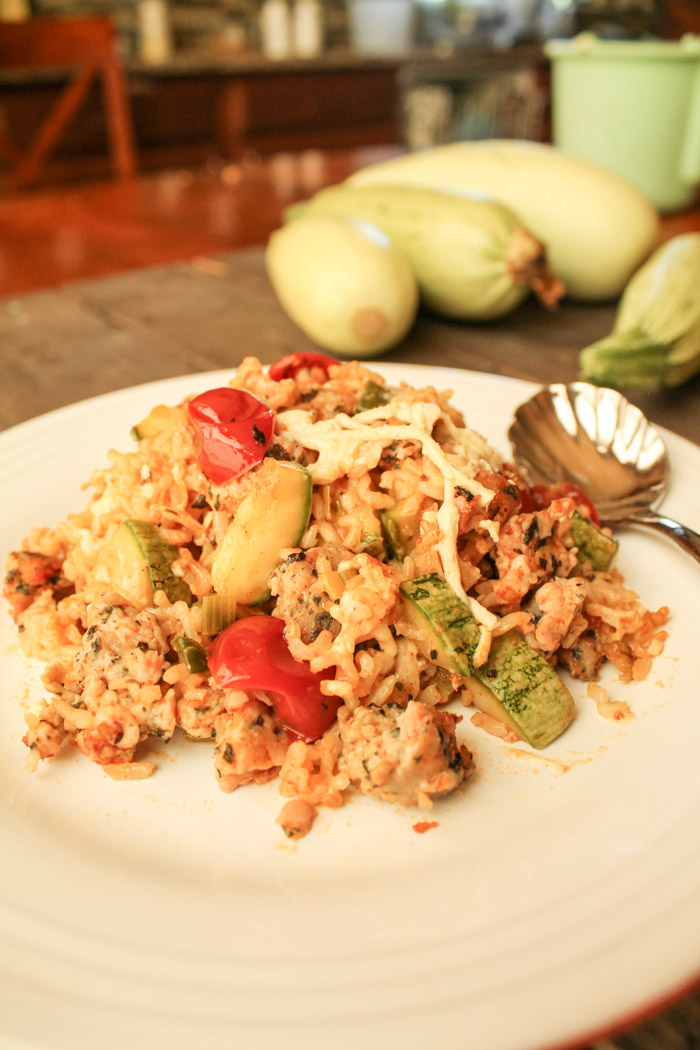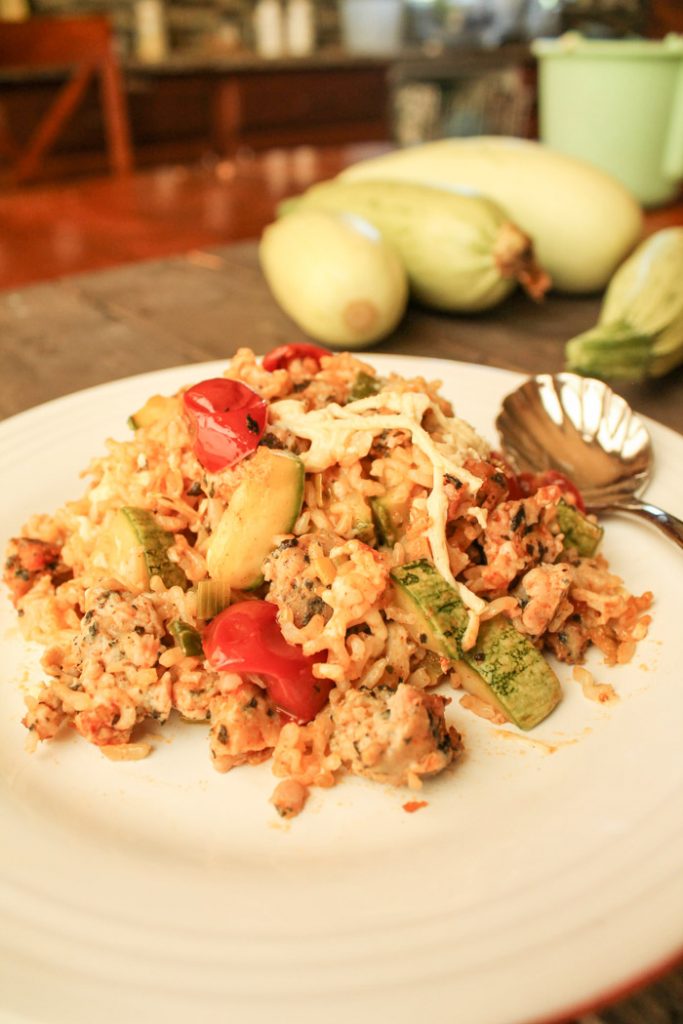 Pressure cooking brown rice for the zucchini casserole:
Have you ever used your pressure cooker for cooking rice? It is a new found love of mine. Best textured rice I HAVE EVER HAD! I love brown rice again! Here's how I do it:
Soak your brown rice in water and 2 tablespoons of apple cider vinegar for at least 12 or up to 24 hours. I also add some sprouted brown rice flour to the water to assist in even MORE break down of the phytase. I reserve a half of cup of this liquid to reuse every time, thereby increasing the amount of phytase I break down the next time I soak my brown rice. By doing this, I can finally digest brown rise easier instead of being bloated and gassy!
I have also use sprouted brown rice and skip the soaking!
TO COOK: Rinse your brown rice well. Use 1 cup rice to 1 1/4 cups liquid. Add in 1 tablespoon avocado oil, and 1/2 teaspoon sea salt per cup of rice. Bring your pressure cooker to full pressure and cook for 18 minutes. Turn off, and let it come down naturally for at least 10 minutes, or longer. Then, remove lid and it is ready to go!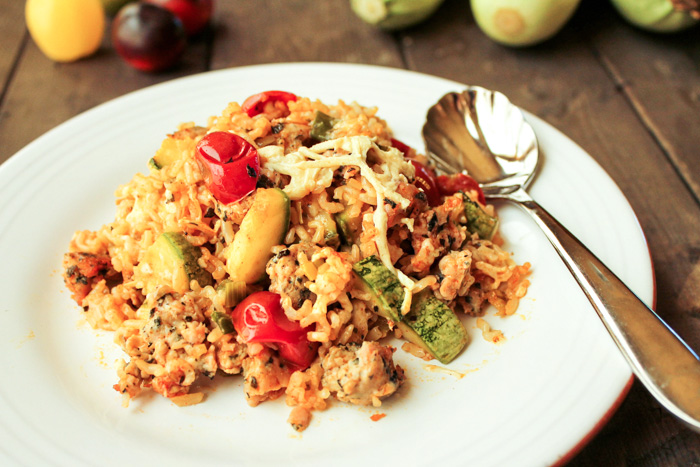 Making a complete meal out of this zucchini squash casserole:
We like to add a favorite cooked ground sausage to the mix to make this a main course with meat.
SO find a favorite ground sausage, cook it up, then add to the casserole mix prior to baking!

Looking for more gluten free zucchini recipes?
A simple sautéed zucchini would be a prefect side dish to any meal!
Gluten Free Zucchini Casserole Recipe w/ Rice:
If you try this zucchini recipe, please come back a report! I love reading your comments!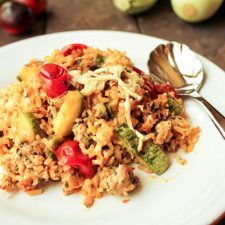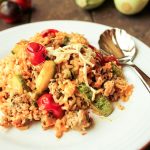 Gluten Free Zucchini Rice Casserole
Ingredients
1 1/2

cups

cooked brown rice

2

tablespoons

avocado oil

1 1/2

pounds

zucchini

cubed

1

cup

green onions

sliced

1

clove

garlic

minced

1 1/4

teaspoons

garlic salt

1/2

teaspoon

basil

1/2

teaspoon

paprika

I have used Hungarian and smoked, both were good

1/2

teaspoon

dried oregano

1 1/2

cups

tomatoes

chopped

1

cup

or more shredded Cheddar Cheese Style Daiya Cheese, divided
Instructions
Preheat oven to 350 degrees and lightly grease a 11 X 17 baking dish.

Heat the oil in a skillet over medium heat, and add the zucchini, green onions, and garlic, sauteing for 5 minutes, or until just tender.

Season with garlic salt, basil, paprika, and oregano.

Mix in the cooked rice, tomatoes, and 1/2 cup cheese.

Continue to cook and stir until heated through.

Taste and adjust seasonings to your personal tastes.

Transfer to the prepared casserole dish and top with remaining cheese.

Bake uncovered 20 minutes, or until cheese is melted and bubbly.
Nutrition Facts
Gluten Free Zucchini Rice Casserole
Amount Per Serving
Calories 153
Calories from Fat 72
% Daily Value*
Fat 8g12%
Cholesterol 14mg5%
Sodium 461mg20%
Potassium 365mg10%
Carbohydrates 13g4%
Protein 5g10%
Vitamin A 730IU15%
Vitamin C 21.5mg26%
Calcium 133mg13%
Iron 0.9mg5%
* Percent Daily Values are based on a 2000 calorie diet.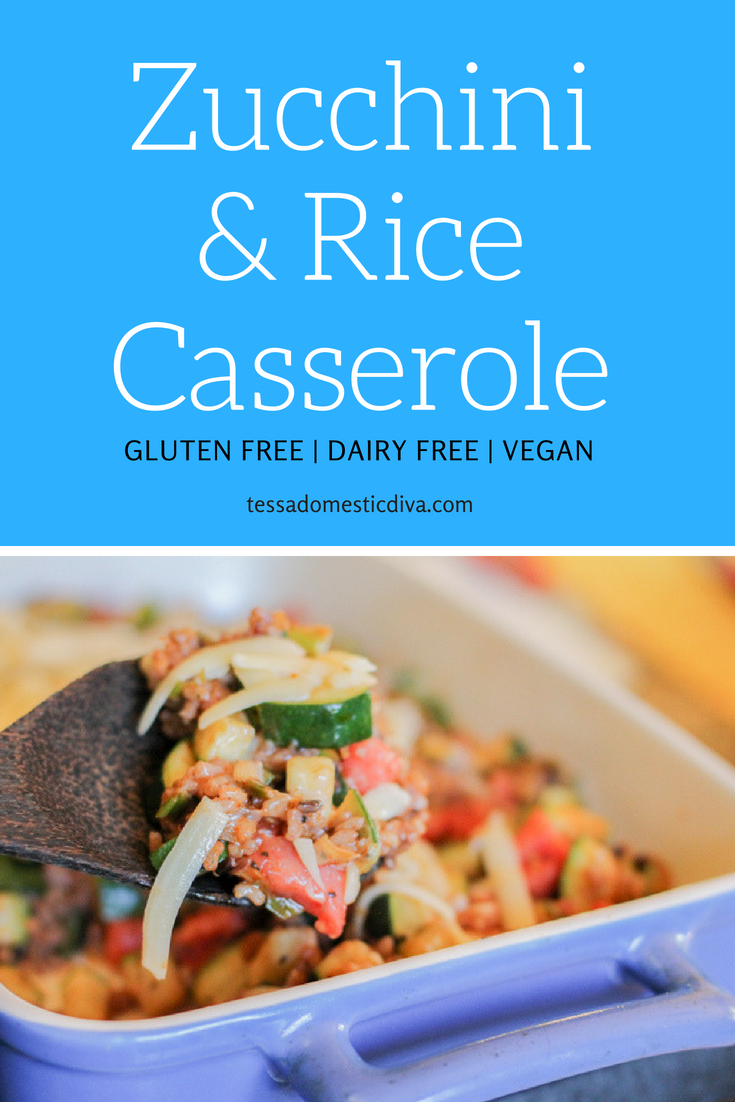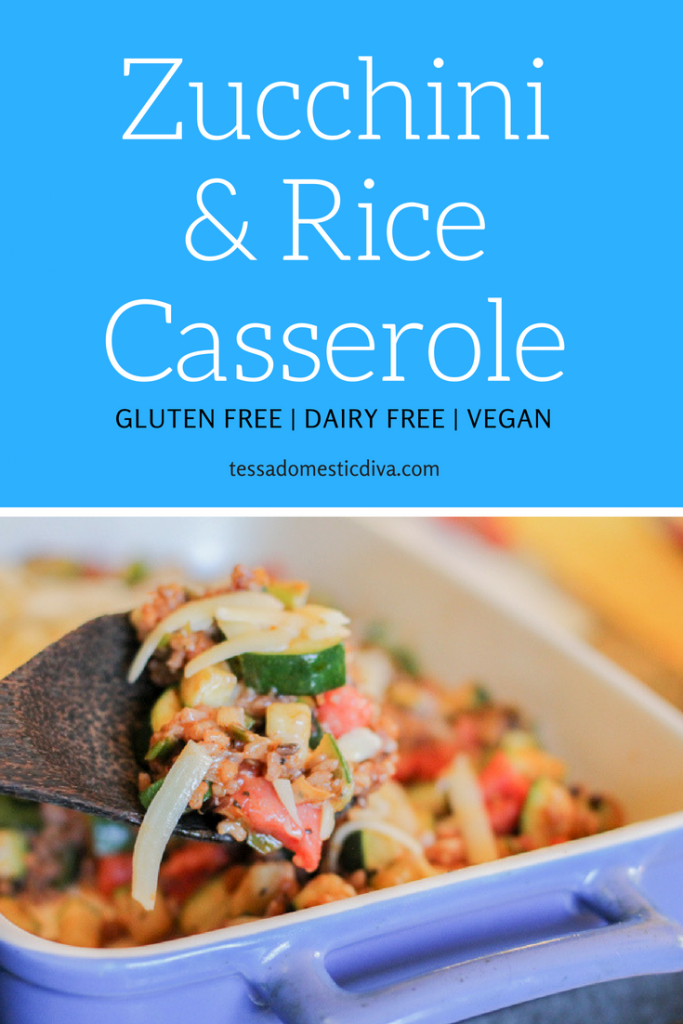 Any of the links in my posts may be affiliate links. If you click on them and make a purchase, I might make a commission. Your support is much appreciated and pays for the cost of running this free resource!