The best paleo chocolate cupcakes are no longer a pipe dream…they are here…and they are good by ANYONE'S standards!
Rich chocolate flavor, and a tender, spongy crumb! Come see how easy it is to make a totally grain free and delicious chocolate cupcake!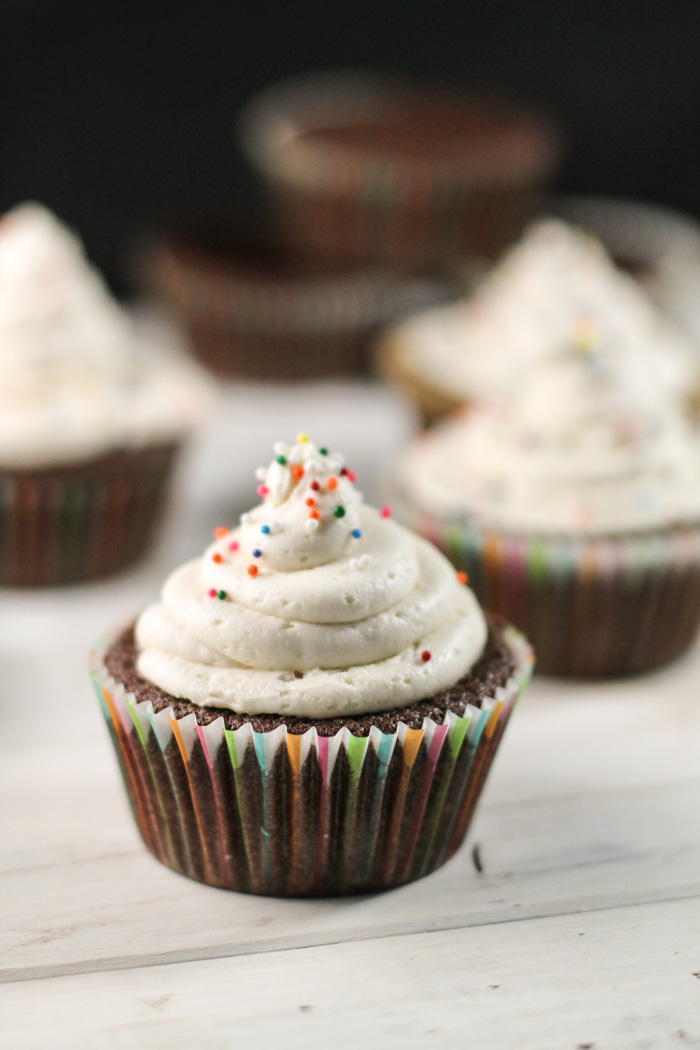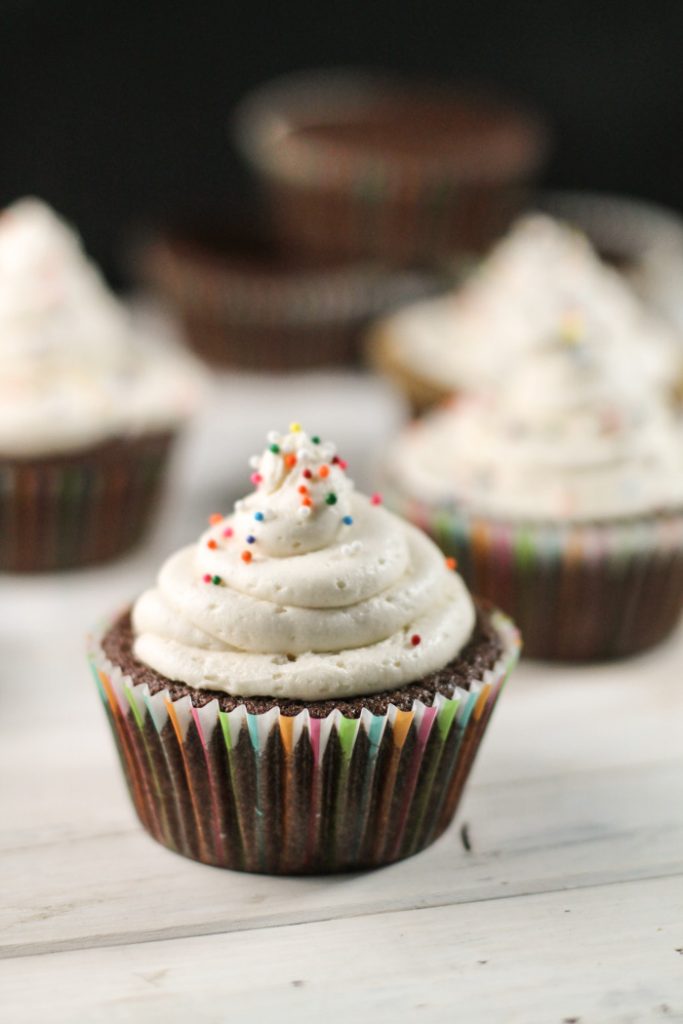 A delicious, moist, and paleo cupcake (or cake!) for you next celebration!!
I am always striving to sneak some healthier foods into my kids' treats….but until now the paleo chocolate cupcake had been a work in progress. We already have our favorite gluten free vegan vanilla cupcake, but mom wanted a grain free one too!
As I have gained more experience working with paleo flours, I have learned some of their unique traits and needs.
But how to ensure a lovely moist crumb that I so adore?! Hmmm…
As an added bonus, these have been vetted out by the ever picky 'friends,' category. They just think they are good cupcakes, period. I struggle with the pallets of some amigos, as they are used to store bought overly sweetened and sugared confections!

A Secret Ingredient
When I was young, my grandma used to take a box mix of cake, and use a whole can of pears as part of the liquid. While I didn't know why then, that cake was always one of my favorites!! It was so deliciously moist! Of course I now know that pureed fruits and vegetables can add that coveted moisture into any baked good. Kind of like in my gluten free vegan chocolate cake.
I am not sure why I didn't think of it before, but I finally decided to use some applesauce as part of the liquid ingredients to create a really moist cake, and it worked beautifully.
I have a hunch that other pureed fruits and vegetables would work too, I just have not tested them.

How To Frost The Best Paleo Chocolate Cupcake!?
We have several frostings we rotate though….but you can top these beauties with any favorite frosting.
For a simple frosting, I melt some dark chocolate and butter (or coconut oil) and add a few splashes of milk to thin. With a sprinkle of flaked sea salt, and a dash of vanilla…voila!! (see pic below)
We also love a traditional buttercream,
This chocolate avocado frosting is serious amaze-balls, no one would ever guess there is avocado in there!
And my friend Erin, over @Texanerin Baking has a chocolate vegan frosting that looks to DIE for!!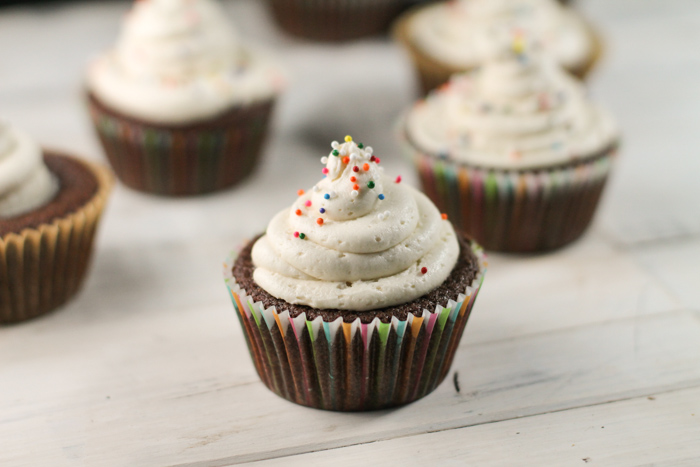 Healthier Sprinkles?
In these pictures, I used some regular sprinkles I had on hand that I purchased on accident online, thinking they were dyed with natural colors…wrong-o! As soon as opened the box…I knew I had not looked carefully enough at the labels before clicking 'buy'! But they look pretty, so I went with it.
And lets get this out of the way:
a.) sprinkles don't actually TASTE good to most people, they have a funky texture and zero flavor!
b.) kids however, think everything is better with sprinkles.
c.) sprinkles are NOT health food nor paleo, not even close!
BUT, if you are a mom, and are making stuff for kiddos, sprinkles can be a fun and colorful addition!!!
But artificial food dyes are no bueno for anyone…so we don't make a habit of buying products containing them.
Here are some naturally dyed versions I have tried and enjoyed:

Additional Chocolate Paleo Treats You Could Try!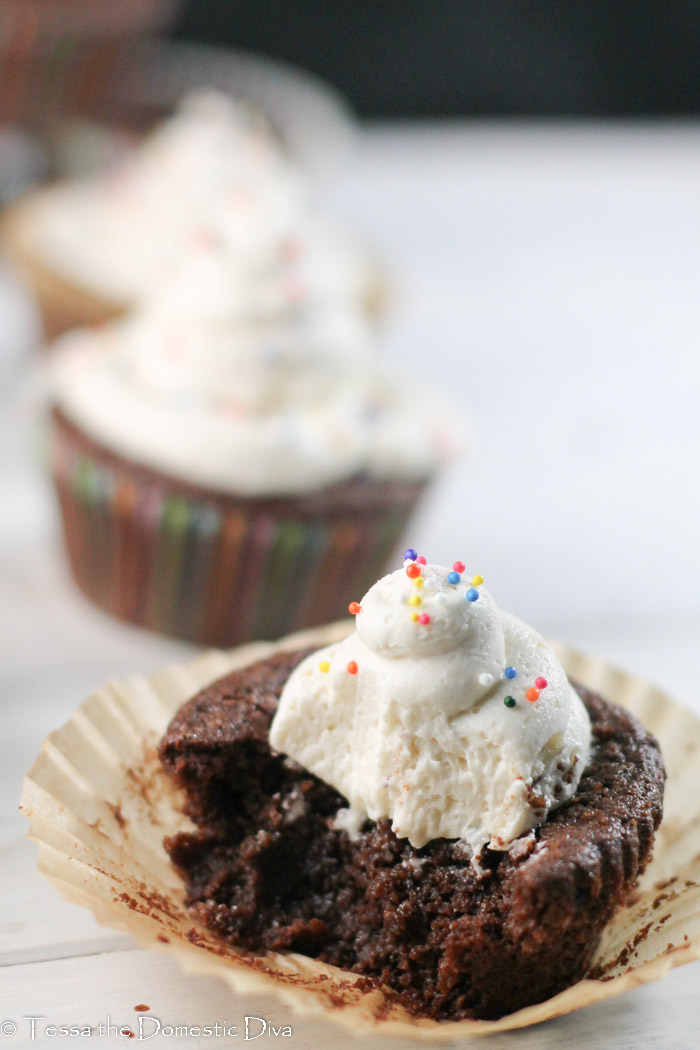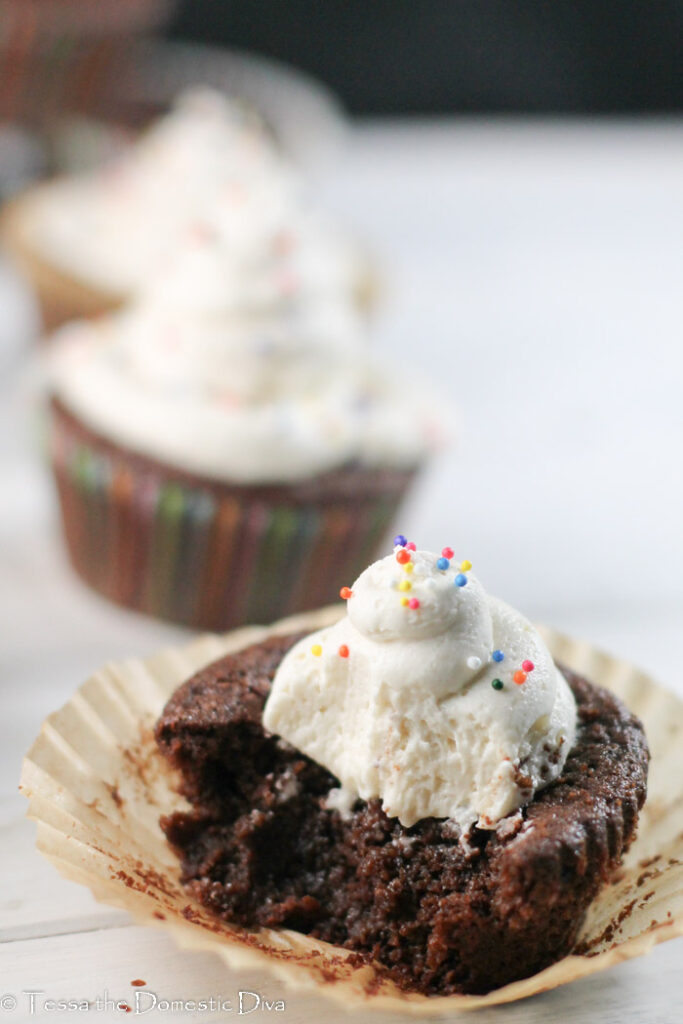 Paleo Chocolate Cupcakes Recipe:
If you try this recipe, I want to know! Please leave a comment below!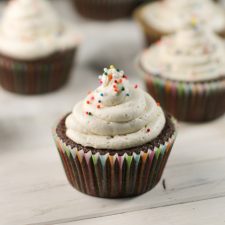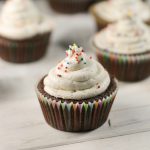 Paleo Chocolate Cupcakes
Ingredients
Wet:
1/2

cup

coconut oil

or butter, melted

1/2

cup

honey

1/2

cup

palm sugar

or any granulated sugar of choice, may add more to taste as needed

1/2

cup

applesauce

or pumpkin puree

3

eggs

1

tablespoon

vanilla extract

2

teaspoons

apple cider vinegar
Instructions
Preheat oven to 350 degrees, prepare and grease a 12 space muffin pan. Alternately, line the spaces with paper baking cups.

In the bowl of a mixer, mix all dry ingredients.

In a glass measuring cup, mix all the remaining ingredients and pour into the dry mix. Mix well, beating for a couple of minutes.

Evenly divide the batter, filling about 3/4 full.

Bake in a preheated oven for 18-20 minutes until just set.

Once completely cool, top with your desired frosting, or enjoy as is!
Nutrition Facts
Paleo Chocolate Cupcakes
Amount Per Serving
Calories 249
Calories from Fat 135
% Daily Value*
Fat 15g23%
Cholesterol 40mg13%
Sodium 130mg6%
Potassium 151mg4%
Carbohydrates 28g9%
Protein 4g8%
Vitamin A 60IU1%
Vitamin C 0.2mg0%
Calcium 60mg6%
Iron 1.3mg7%
* Percent Daily Values are based on a 2000 calorie diet.

Any of the links in my posts may be affiliate links. If you click on them and make a purchase, I might make a commission. Your support is much appreciated and pays for the cost of running this free resource!