This is my new favorite breakfast!!  It is so easy, and it sticks with me all morning.
Thank you Spunky Coconut for the recipe!!  Although I am sure different types of tortillas would work…gluten free/corn free or not, I LOVE the crispy crunchy texture of the brown rice tortillas.  They have a nice neutral flavor easy for kids to like (unlike teff tortillas…which have corn in them anyways!).  I think corn tortillas would be too dry for this without brushing them w/ some oil first, and flour tortillas might work for those who can have them, although they would not be as crunchy.  Let me know if you try one of these options and how it turns out!  Have fun with your toppings and making it your own: this is a basic recipe begging for personalization!!
TIME SAVING TIP:  I cooked a whole package of chicken sausages, and have them precooked and ready to go in the refrigerator for busy mornings.  Having precooked sausage links is a great breakfast protein for school days, just a few seconds in the microwave, and a you have a hot and delicious sausage link…couldn't be any easier OR quicker.  These precooked sausages are more affordable, better tasting,  and don't contain any weird meat from unknown sources like conventional convenience breakfast sausages.  So next time…think BULK!! Cook some extra for those harried work/school mornings.
Serves 1 (with one egg this is about 350 calories, 2 eggs is 420)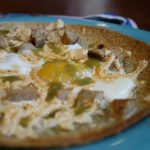 Baked Egg Breakfast Pizzas
Ingredients
1

brown rice tortilla

2-3

cooked sausage links

chopped (or ham or bacon)

1-2

eggs

2

tablespoons

grated vegan cheese

or other allowed cheese of your choosing

Optional toppings: tomatoes

avocado, salsa, peppers, spinach leaves, green onion, hot sauce.
Instructions
Preheat the oven to 450 degrees.

Using either a Silpat with a perforated sheet, or a cookie sheet, assemble your tortilla:

Scatter the sausage and any veggies, then carefully break the two eggs towards the center of the tortilla.

Sprinkle with grated cheese.

Bake in a preheated oven for about 7-8 minutes for soft egg yolks, 10-11 for hard!

Remove from oven, and use a pizza cutter to slice your tortilla into wedges.
Any of the links in my posts may be affiliate links. If you click on them and make a purchase, I might make a commission. Your support is much appreciated and pays for the cost of running this free resource!