Donuts are all rage in the blog world right now. How about a gluten free vegan donut for those of us with restrictions?
Don't get me wrong…I love me a fresh, hot, fried piece of dough…but health reasons win out: a once a year treat (or less)!
With lunchbox stuffing's hot on MY mind, I figured these would be a hit. After all..what really gets kids excited about their lunchboxes? Is it mom's stellar gourmet cooking with just the right marriage of flavors and textures? HA! My kids have no clue that mom is a pretty good cook and frankly, could CARE LESS!! They want excitement! They want sprinkles! They want frosting!!
So it is my job to figure out how to give them these things without feeding them unhealthy foods in the process. I think these fit the bill.
I am realizing that a bit of novelty and whimsy go a long way in a lunch box….enter cute little donut shapes the perfect size for little hands! I promptly purchased my own donut pan for $12 on amazon. This morning, was the pilot..and it was VERY successful! My kids didn't have to know that I snuck all sorts of goodies into the dough and NO refined sugars (minus the topping). So have fun, I know I did, and even not fried, I have sated my donut quota for the year, but will make THESE ones more often!!
You do not need a donut pan to make these!
Option 1: I have free formed the donuts multiple times with success, just roll into snakes, and free-form them on a greased or Silpat lined cookie sheet.
Option 2: Gently roll balls of dough in your hands, and then place them on a greased or Silpat-lined baking sheet. I then use my finger to make the hole, shimming around in the center of the ball until a hole is achieved. If you want them to be smooth, use damp fingers to smooth the edges!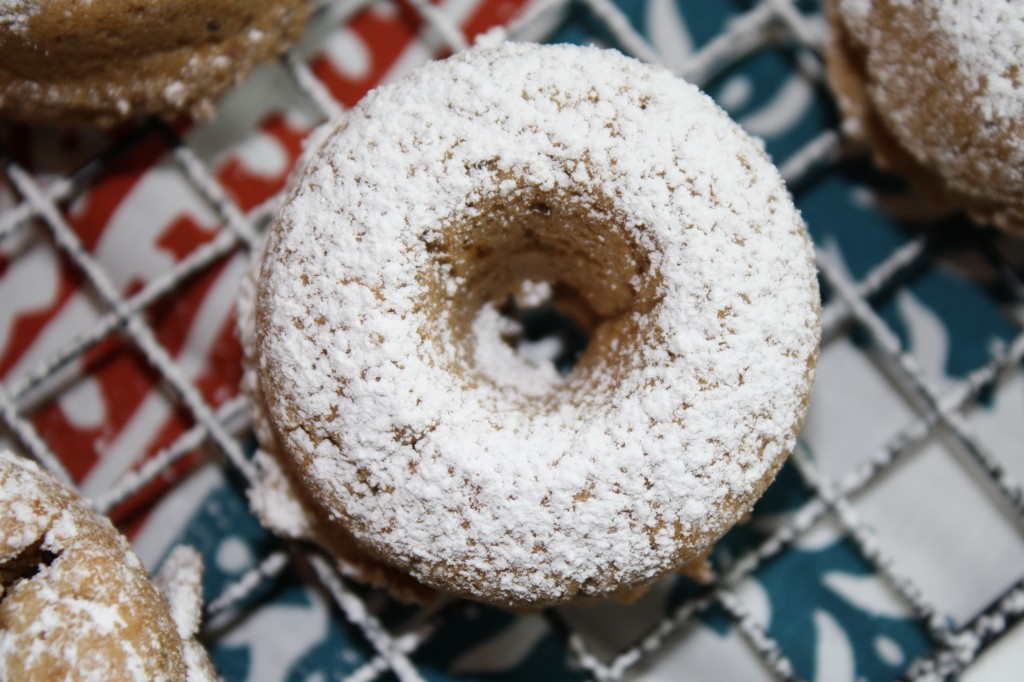 Gluten Free Vegan Donuts Recipe:
Gluten Free Vegan Healthy Cake Donuts
Ingredients
DRY
1

cup

gluten free oat flour

could use sorghum or millet too

1/2

cup

brown rice flour

or more oat/sorghum/millet

1/2

cup

tapioca starch

2

tablespoons

almond meal

for nut free, replace with more of one of the above flours

2

tablespoons

chia or flax meal

optional

1/3

cup

palm sugar,

or brown sugar, or more if you like them sweeter

1

teaspoon

baking powder

1/2

teaspoon

baking soda

1/2

teaspoon

sea salt

1/2

teaspoon

guar gum
WET
1/4

cup

Spectrum Organic Shortening,

coconut oil, or favorite vegan butter

1/2

cup

vegan yogurt,

or sour cream. I used So Delicious plain yogurt

1/4

cup

non-dairy milk

1

Ener-G Egg Replacer for one egg mixed with a scant 1/4 cup warm water

, or 1 egg

1

teaspoon

vanilla extract
OPTIONAL ADD IN'S
cinnamon,

dark chocolate chips, diced berries
MAPLE GLAZE
1/2

cup

corn free powdered sugar

or powdered coconut sugar

1

tablespoon

melted vegan butter,

butter flavored coconut oil, or any butter

3

tablespoons

maple syrup

to achieve desired consistency

dash of salt,

optional
Instructions
Preheat oven to 350 degrees, lightly grease the donut pan.

Whisk the dry ingredients together.

Cut in the shortening with a pastry blender.

Mix the 'egg', and yogurt together, stir in.

Add the milk, 1 tablespoon at a time until the dough is firm but still a little sticky. You need to be able to pick it up and roll it between your hands. You could sprinkle additional flour to achieve this if necessary.

Using your hands, roll a golf ball size piece of dough into a short snake. Snake it into the donut mold, overlapping the ends. You could use a damp finger to smooth the tops if you wanted to be perfect.

Bake for 12-15 minutes until just done.

Let cool a couple of minutes and invert on a cooling rack to avoid a soggy bottom.

Top with powdered sugar, cinnamon/sugar mix, or the above maple glaze. I found these to be a wee bit crumbly right out of the pan, but not so after they cooled completely!
Nutrition Facts
Gluten Free Vegan Healthy Cake Donuts
Amount Per Serving
Calories 113
Calories from Fat 36
% Daily Value*
Fat 4g6%
Sodium 104mg5%
Potassium 73mg2%
Carbohydrates 16g5%
Protein 1g2%
Vitamin C 0.8mg1%
Calcium 32mg3%
Iron 0.5mg3%
* Percent Daily Values are based on a 2000 calorie diet.